Vision
: To become a world class institution that provides a fertile ground for young minds to strengthen the foundation of their future life by giving them knowledge and physical skills and the art of living.
Mission:
It is our mission to facilitate the development of balanced human beings who have the wisdom to create a life of passion, purpose and peace.
To achieve this Mission the college provides: 
Excellent infrastructure to experience a healthy academic atmosphere
Highly qualified and talented faculty to impart practical and theoretical knowledge effectively.
Unique programs and opportunities for students to explore their potential.
Objectives:
To enrich knowledge of personal and community health.
To develop competence to undertake research in Physical Education games and sports.
To prepare for evolving stage specific curriculum, pedagogy and evaluation techniques in Physical Education.
To develop an understanding and appreciation of indigenous approach to Physical Education, exercise, games and sports.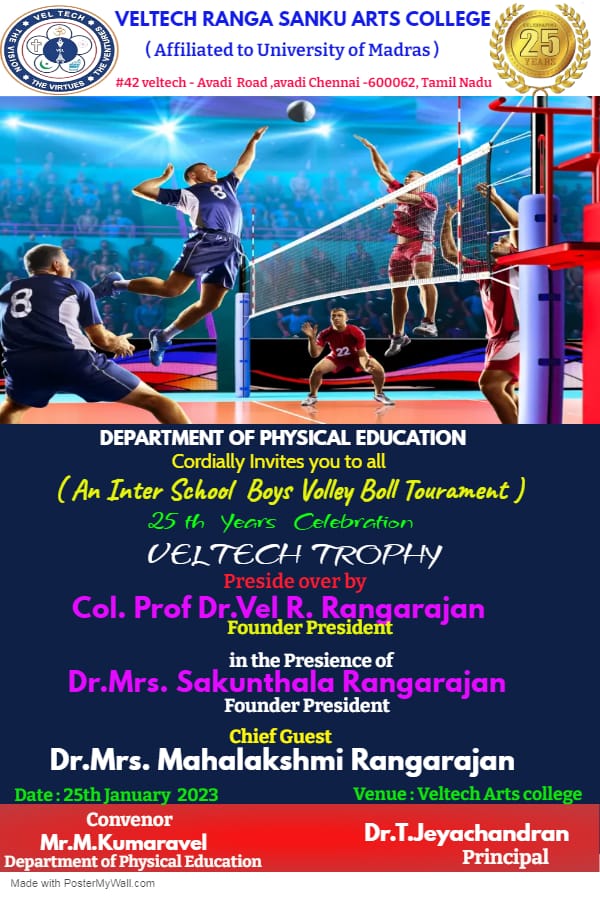 Mr.M.KUMARAVEL, M.P.Ed.,M.Phil.,
VELTECH RANGA SANKU ARTS COLLEGE,
CHENNAI -62
PH:909272329