In Our institution we are providing hostel facility for both genders separately. However, we try our best to provide accommodation to needy students from outside areas or localities and various parts of our country / world.The hostels provide a calm atmosphere necessary for deep study. There is copious water available trough out the day. There are play fields for cricket, volley ball and basket ball where student spent time in sports activities. The hostel rooms are well furnished with Tube light, Night lamp, Fan, Cot, Shelf are provided. Coin telephones have been fixed in boys and girls hostels for the use of hostellers.
Hostel Booking System -click the link below
https://www.veltechmultitech.org/hbs
Contact Details
Vel Vinayaga Boys Hostel
1. Mr.Radhakrishnan, 91- 9677763282
Email id:
Goddess Padmavathy Girls Hostel
1. Ms.Stella , 91- 9677763287
Email id: wardenpadmavathy@veltechmultitech.org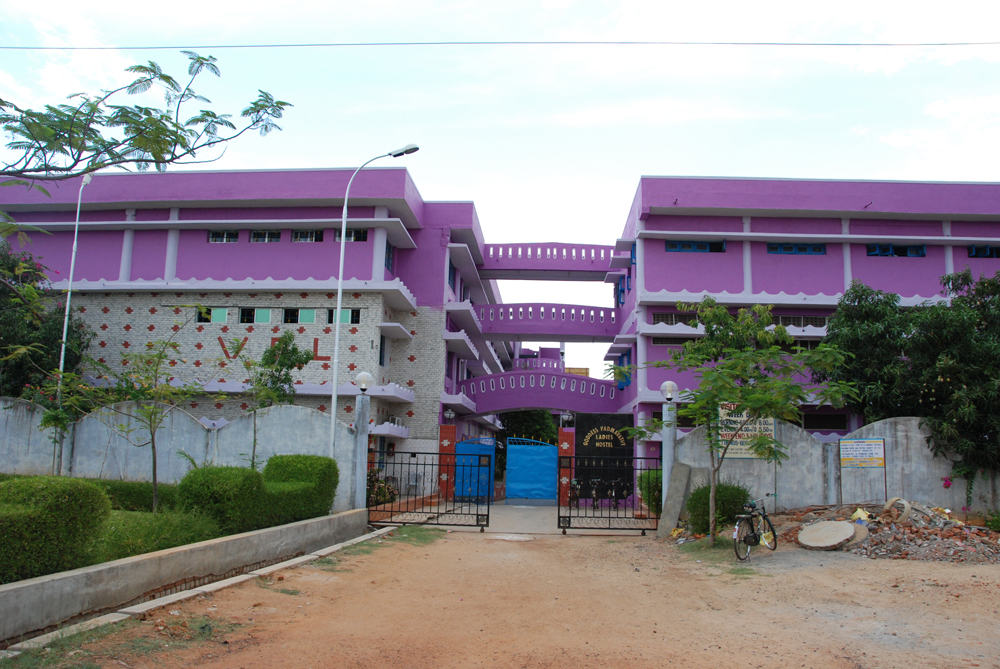 Excellent  hostel facilities ensure free cross  ventilation and hygienic environment surrounded by vast expanse of lush green lawns, coconut and mango groves.
Separate accommodation for boys and girls.
Absolute safety and security 24*7 for girls hostel.
Separate library inside the hostel and reading room facility.
Vast indoor and outdoor playfields.
Semi deluxe,deluxe(AC & non AC),super deluxe rooms and bath attached rooms.
Beauty parlour within the premises for both boys and girls
Excellent communication  services 24*7 with in the premises.
Gala entertainment followed by moonlit dinner every full moon night.
Multi cultural festivities.
Excellent indoor and outdoor games facility.
Auditorium inside the girls hostel.
Temples and prayer halls for all faiths.
A shopping center to meet all urgent requirements.
A refreshment café.
Mentors to all inmates.
Special tuitions for inmates.
A dedicated computer center with 24*7 internet access in each hostel block.
The hostel buildings are also provided with solar water heaters
Drinking Water from RO plant
Wi-Fi facility
If you need accommodation in a hostel, you are requested to fill a prescribed column in the application form from the Information Office and submit it by the time of admission. You are to pay prescribed fees to get accommodation in the hostel (to be revised shortly).
Hostel boarders are to abide by the hostel rules framed from time to time. It may be noted that for non-payment of mess dues, seat rent or electricity charges, the accommodation given in the hostel may be cancelled. Subject to the availability of vacancies in hostel the accommodation may be given.
In our hostel we have Part-time Medical Officers visit the Boys Hostels and a Lady Doctor visits the Women's Hostel in order to help the needy students who are ill. Very sick and non-ambulatory Boarders are examined by the Doctors on their bed. In case of emergency and / or at odd hours, the Hostel Superintendent may call a local physician and transfer the sick boarder to any Govt. Hospital/ Students Health Home for immediate care. Doctor's fees, cost of medicines and the transportation charges are subject to availability. A Hostel Clinic with Dispensing facilities is already functioning from morning to evening
The Revised and Simplified Rules and Regulations for Students in the Hostels is furnished below. It will be effective from 6th July 2013.
 The in time is extended up to 6.30 PM in the case Hostel (gates) to students.
 Late Entry Request letter can be used by the Students for obtaining the late entry permission (Academic purpose only-Usage of Lab/Extended Classroom sessions) from the concerned Faculty. Only Head of the Department and Principal/Dean Admin are authorized to sign such request with seal.
– The approvals shall not be given for longer durations (i.e. – Not more than 3 consecutive days).
– The approval period shall be used for spending time in the labs for Academic / Research purposes/Industrial visit/Implant training and for any extended classroom sessions only.
 Students can be allowed for week end outings only for 6 hours either Saturday or Sunday only four times per month between 8.00 AM and 6.00 PM with prior outpass from wardens (One day in Advance) on authorized letter from parent (SEE OPTION A OR OPTION B ) faxed to 044 26840605 or emailed to communication@veltechuniv.edu.in.
 Defaulters of week end outings (more than 6 hrs) will not be allowed for outings in the subsequent month
 Parents would be allowed to take their wards for week end outings including overnight stay for any number of times provided if they come in person and accompany with them
 Study hours may be maintained as per timing fixed by the Warden
 Silence hours should be maintained strictly between 10.30 PM and 6.30 AM. Violations more than three times would call for expulsion from the hostel.
 Biometric system has been already introduced to monitor the attendance and presence of the student in the hostel rooms in required hours.
 The attendance defaulters would be informed to their parents
 Warning for the first and second time attendance defaulters.
 The third time attendance defaulters, parents would be called to meet the Chief Warden / University Officials.
 Continuous defaulters of attendance would be expelled from the Hostel.
 Once in a semester to allow them for outings (overnight stay) either on week ends/during instructional/non-instructional days to their relatives place and also to their native place once in a month with written permission from the warden and request letter from the parent format enclosed.
 Students would be allowed to leave the hostel in late hours (by showing the proof) depending up on their train/ bus timings. Security personnel would be allowed to accompany them to the railway /bus station.
 Similarly students would be allowed to return to the hostel late hours if they are coming to the university by authorized trip from far off places (proof of travel in the form of ticket is required).